</P>
Ringette Drills - Goalie Skills
---

Quick Shot
| | |
| --- | --- |
| Equipment: | Rings |
| Description: | Players line up in a semi circle in front of the net. Coaches have 2 piles of rings on either side of the net. Alternating, the coaches pass to one of the players who takes a shot on goal. The goalie won't know who is getting the pass. Teaches goalies and players to always be ready for a pass or shot from anywhere |

---

Combo
| | |
| --- | --- |
| Equipment: | None |
| Description: | The goalkeeper starts the drill hugging the left post. Using shuffle steps, move alond the blue crease to the right and hug the right post. Then shuffle alon the crease to the left back to the starting position. Then execute a T-push or one shuffle step straight across to the other post. Continue by telescoping forward to the center of the free pass circle on the right and then retreating to the post. Finish by telescoping to the center of the other circle and retreating to the post |
| Purpose: | This will teach your goalies where their posts are without looking. This drill should be done before every practice and as a warmup for goalies for games. |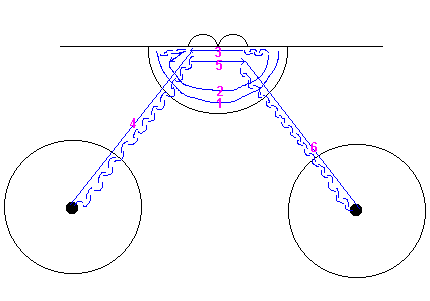 ---

Hop the Rope
| | |
| --- | --- |
| Equipment: | One skipping rope or long rope for every two goalkeepers |
| Description: | In partners, one goalkeeper is the rope turner, holds on to one end and turns the rope in a circle keeping one end on the ice. (This can be doneby turning the whole body or a lasso style to avoid dizziness.) The other goalkeeper hops over the rope as it comes by, landing in a good stance each time. Then the goalkeeper can try one foot hops. |
| Variation: | Once proficient, the skipper can try to drop to her knees and then get back up again between skips |
---

One to One
Equipment:

A net or two pylons and five rings to every goalkeeper are needed.

Description:

With one shooter for every goalkeeper, the shooter stands in the slot and shoots the ring at the goalkeeper who practices the following:


- Cushioning: The shot comes at the stick and the goalkeeper cushions the ring to keep it in the crease.
- Deflecting: The shot comes on the ice to either side of the goalkeeper and the stick is used to deflect the ring to
the corners.
- Clearing: The shot comes on the ice and the goalkeeper stops it then using the stick to clear it to a specific target.
---

Frisbee Throw
| | |
| --- | --- |
| Equipment: | One frisbee for every two goalkeepers is needed |
| Description: | In partners, goalkeepers pass the frisbee back and forth, working on proper throwing technique and accuracy. Then the drill is repeated using rings in place of frisbees, but following the same technique. |
| Variation: | Goalkeepers throw rings along the ice to pylons or other targets for accuracy. |
---

Step Out
| | |
| --- | --- |
| Equipment: | Rings |
| Description: | Line up in two lines about 6 feet from the corners. A passes off the boards to B who picks up the ring, goes behind the net and makes a quick step out from behind the net on either side. Goalies must keep their eye on the skater to prevent them from scoring. Alternate sides. |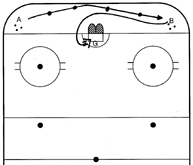 ---

Either Side
| | |
| --- | --- |
| Equipment: | Rings |
| Description: | A has 5 rings behind the net. A passes a ring one at a time to B who takes quick shots. |
| Variation: | Add a defense. |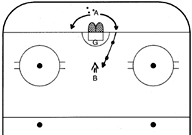 ---

Name of Drill
| | |
| --- | --- |
| Equipment: | |
| Description: | |
| Variation: | |
---

Name of Drill
| | |
| --- | --- |
| Equipment: | |
| Description: | |
| Variation: | |
---