Ringette Drills - Ring Skills
---
Sweep Pass

| | |
| --- | --- |
| Purpose: | To learn the proper passing technique |
| Description: | Start in the basic stance. Bring the ring to the forehand side of the body. Using a sweeping motion, propel the ring across the ice. Point the stick where you want the ring to go. Make sure the players are not simply passing wildly. Emphasize control. |
| Variation | Pass to her partner's skates to increase accuracy. |
---
Backhand Pass

| | |
| --- | --- |
| Purpose: | To learn proper backhand passing |
| Description: | Have players stand in the ready position. Have them bring the ring across their bodies to the opposite side as the sweep pass. They then bring their arms back and propel the ring across the ice. Important: Make sure they do not cross their hands. |
| Variation | Pass to her partner's skates to increase accuracy |
---
Receiving a Pass

Purpose:
To learn the proper pass receiving technique
Description:
As the ring approaches, the player watches it, "sights" the ring with the end of her stick and follows it to the middle of the ring. Use the skates to catch the ring if it is missed. This is a good skill to learn because they will use it while skating.

Important: Make sure the players have their stick to the side of their bodies to prevent injury from a stick digging into the ice.
---
Lead Pass

| | |
| --- | --- |
| Purpose: | To teach players to pass ahead of their partner instead of behind |
| Description: | Use the forehand sweep pass or backhand pass. Two players skate down the ice. First player propels the ring so it goes slightly ahead of her partner so she has to skate to it. The passer must estimate where her partner is going to be. Important: Do not tell them to pass at their partner's skates. By the time the ring gets to her partner, she will have passed the ring. |
---
Board Pass

| | |
| --- | --- |
| Purpose: | To learn that the boards are like an extra player on the ice |
| Description: | Divide the players into groups of 2 and have them line up around the ice about a stick length from the boards. First player propels the ring using either the forehand or backhand pass against the boards at an angle so it reaches her partner. The players should be able to figure out after a few passes how the ring will come off the boards. |
| Variation | Partners skate around the ice passing the ring off the boards to the partner in front. The front partner drops the ring to the back partner. Repeat. Go the other direction. |
---
Drop Pass

| | |
| --- | --- |
| Purpose: | To learn how to make a drop pass |
| Description: | While skating, the first player removes her stick from the ring and leaves it for her partner to pick up. It is important not to pass the ring, just leave it for her partner. When the players get more proficient, they can start using the pass. |
---
Sweep Shot (On the ice)

| | |
| --- | --- |
| Purpose: | To learn how to shoot on goal |
| Description: | Use the basic sweep pass technique, but put three times the power behind it. Be careful not to always use this shot or the opposing goaltender will know where you are going to shoot. |
| Variation | Backhand power shot |
---
Flip Shot (Beginning of the Wrist Shot)

| | |
| --- | --- |
| Purpose: | To learn the basics of the wrist shot |
| Description: | Place the stick in the ring. Use the stick to draw a letter C on the ice and propel the ring against the boards. While shooting the bottom hand should curl up toward the roof and the top hand should rotate away from you. The corner of the stick should catch the lip of the ring. If players are having trouble with this shot, have them do a warm-up drill in the dressing room before they go on the ice. Use the stick to try and flip the ring over on the floor. Do not shoot against a wall for safety reasons. Flipping the ring over will give them the feel of getting their stick under the lip of the ring. This is good to teach in the dressing room before the practice. |
| Variation | If players get proficient with this, have them try to flip the ring using their backhand. |
---
Wrist Shot

| | |
| --- | --- |
| Purpose: | To add power and accuracy to the flip shot |
| Description: | Stand in the basic stance, turned to the forehand side. Place the stick in the ring. Put all the weight on the back foot. Begin the shot while transferring weight to the front foot propelling the ring against the boards. Remember to use the same technique as the flip shot and get the corner of the stick under the lip of the ring. Practice accuracy before increasing power. |
| Variation | Place the shooter tutor in the net (if there is one) and have players try to shoot in the top corners. |
---
Backhand Flip Shot

| | |
| --- | --- |
| Purpose: | To teach the backhand shot |
| Description: | The player draws the ring to the backhand side of the body and with shoveling motion lifts the ring off the ice. Many players make the mistake of trying to let go of the ring to far from the body. The closer the ring is to the skates, the more accurate the shot. Important: Make sure players do not raise their sticks over their shoulders. |
---
Horseshoe Drill with Pylons

| | |
| --- | --- |
| Equipment: | Rings/Pylons |
| Description: | All players in one corner, coach in opposite corner with rings. Player 1 skates up around pylon and receives ring. Then she skates through the pylons and takes a shot on goal |
| Variation: | Opposite corner |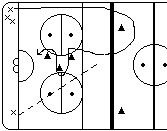 <--Back
---
Checker 2 Offense - M.Parkin - Penticton

| | |
| --- | --- |
| Equipment: | Rings and pylons |
| Description: | Players line up in two lines at the blue line as shown. One line has rings. Player 1 and Player 2 pass the ring over the blue line and continue passing and take a shot. As soon as they shoot they make a tight turn and head up the ice. The coach is standing by the free play line on the other side with rings. The coach passes a ring to Player 1 or 2 and they continue up the ice passing over the blue lines. While all this is going on, Player 3 starts from a line beside the crease and tries to catch up and check or prevent the pass. Next page |
| Variation: | 2 Defense skaters and 3 offense skaters. |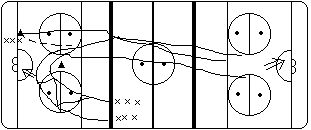 <--Back
---
Double Shots - M.Parkin - Penticton

| | |
| --- | --- |
| Equipment: | Rings |
| Description: | All players line up in the corner. The coach sets up on the same side beside the net with rings. The skater skates around the free pass circle and picks up a pass from the coach and takes a quick shot. The skater then pivots backwards and skates backwards around the opposite free pass circle until she reaches the top. She then pivots frontwards and picks up a pass from the coach and takes a quick shot. |
---
2 Pass Philly Drill

| | |
| --- | --- |
| Equipment: | Rings |
| Description: | 2 Groups as illustrated. Player 1 skates up the boards and passes up the boards over the blue line to Player 2. Player 1 skates around the pylon and receives a pass back from Player 2. Player 2 then skates towards the goal and receives a pass from the coach in the corner. After the drill is finished alternate lines. |

<--Back
---
3 Rings Score - M.Parkin - Penticton

| | |
| --- | --- |
| Equipment: | 3 Rings |
| Description: | Two lines at the blue line. One line is the forward line and the other is the defense line. Three rings are placed behind the net. On whistle, the forward skates behind the net and picks up a ring, comes out front and takes a shot, if she scores, the forward goes back behind the net and picks up another ring. If the defense picks up the ring it must be passed to an opposite corner, not out of the zone. The drill continues till all 3 rings are in the net. Coaches must make sure players are holding their sticks across their bodies and not straight out in front to prevent the skater from spearing herself on the boards. Goalies and players will be very active |
| Variation: | 2 forwards and 1 defense, or any other combination. |
---
Pass From Behind Net

| | |
| --- | --- |
| Equipment: | 4 Rings |
| Description: | 4 Rings are placed behind the net. There are 2 forwards and 1 defense. One defense is behind the net with the rings and the other is out front of the net with the defense player. On the whistle, the player behind the net tries to pass the ring out from behind the net to the other forward who skates to get open. The defense tries to block the pass or check the ting away. |
---
One on One

| | |
| --- | --- |
| Equipment: | Rings |
| Description: | One group lines up behind the blue line with the ring. The second group lines up between the blue line and the free play line. First player skates hard to the net, second player from other line curls in and tries to check the ring carrier or prevent the shot. |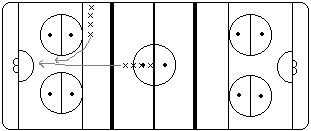 ---
Transition #1

| | |
| --- | --- |
| Equipment: | Rings, pylons |
| Description: | Set up the rings beside the pylon. Line up three lines, two on the red line facing the rings, and the other across the ice on the red line. On the whistle, first two players skate around the pylon, picking up a ring then continue up the ice passing over the blue line. Meanwhile the first player in the third line tries to check the ring away or prevent a shot. |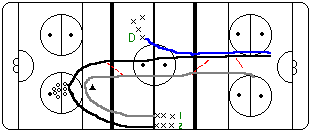 ---
High Speed Shooting

| | |
| --- | --- |
| Equipment: | Pylons, rings |
| Description: | Players line up behind goal line and skate a figure 8 around pylons and recieve a pass from the coach for a one timed shot. This will develop foot speed, getting open and keeping head up. |

---
Torture Drill

Equipment:
Pylons, rings
Description:
Skaters skate hard from both corners around the pylons and pick up a ring to take a shot on goal. Next player starts when the player in front of her hits the first pylon. Change lines.
Variation: Pivot backwards around first pylon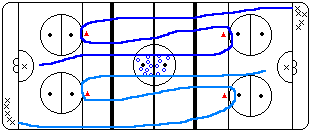 ---
Sully Slide

| | |
| --- | --- |
| Equipment: | Pylons, rings |
| Description: | First player skates, picks up a ring, goes around pylon for a shot. Make sure the players are shooting either forehand or backhand and not pulling the ring across their bodies to shoot. |
| Variation: | Both players go at same time, one picks up a ring and then it's a 2 on 0, pass cross crease to score. |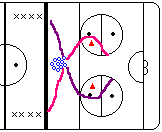 ---
Quick Shot

| | |
| --- | --- |
| Equipment: | Rings |
| Description: | Players line up in a semi circle in front of the net. Coaches have 2 piles of rings on either side of the net. Alternating, the coaches pass to one of the players who takes a shot on goal. The goalie won't know who is getting the pass. Teaches goalies and players to always be ready for a pass or shot from anywhere |

---
Warm Up In & Out

| | |
| --- | --- |
| Equipment: | Rings |
| Description: | Players begin on the whistle. Accelerate forward to the boards near the hash marks, pivot backwards and quickly crossover to the middle of the rink, pivot forward on the blue line and sprint to the red line at the boards, pivot backwards and skate towards the middle of the rink, pivot forwards at the blue line, pick up a ring and take a shot on goal. |
---
Pepper Passing

| | |
| --- | --- |
| Equipment: | 1 Ring between 4-6 players |
| Description: | Players line up as illustrated. First player passes to player in middle then she passes back. Second player passes to middle and gets back and so on till everyone has passed. Rotate one spot clockwise. This will improve passing skills |
| Variation: | Only use forehand passing or backhand passing. |

---
Pass Around the Circle

| | |
| --- | --- |
| Equipment: | Rings are needed |
| Description: | Divide groups into 2 or 3. While skating around the free pass circle, players pass to each other. Players must pass well ahead of the other player receiving the pass. |
| Variation: | Skate around net. Skate around free pass circle backwards |
---
Checking in Confined Area

| | |
| --- | --- |
| Equipment: | Rings are needed |
| Description: | Players are paired up and send to a free pass circle. One player is the ring carrier and the other the checker. Players practice checking each other while staying in the designated area. If ring carrier is forced outside the circle, they lose the ring to the other player. |
| Variation: | Have 2 checkers and 2 ring carriers in once circle. Checkers may check either player. Have 2 checkers and one ring carrier and the confined area is the zone behind the goal. |
---
Chase

| | |
| --- | --- |
| Equipment: | Rings |
| Description: | Players form two lines on either side of the crease. Place one ring at center ice. On whistle, Player 1 and Player 2 race to the ring at center ice. Whoever reaches the ring first is the ring carrier. This player continues skating toward the goal to shoot. The other player tries to check the ring carrier. Players return to the beginning along the boards. Players should be travelling in the same direction for safety reasons. |
| Variation: | If only using 1/2 ice have the players skate up the boards and get the ring and turn back and shoot on goal. |
---
"C" Defending

| | |
| --- | --- |
| Equipment: | Rings/Pylons are required |
| Description: | Player 1 and Player 2 start at blue line. On whistle, both players take off and skate around center free pass circle. Coach passes a ring in front of the skaters. First player to ring carries the ring all the way to the goal to take a shot. Second player side checks player. Switch sides. |
| Variation: | 3 players. 2 checkers 1 ring carrier. |
---
2 at a Time Philly

| | |
| --- | --- |
| Equipment: | Rings |
| Description: | Line up as you would for the Philly drill (Chicago, Horseshoes, corners). Grey has the ring. One player from each side start skating up the boards around the faceoff dots. Grey drops the ring to black who then passes back to grey over the blue line. Continue to the net passing. |
---
Saskatchewan

| | |
| --- | --- |
| Equipment: | Rings |
| Description: | Line up in three lines as shown. Blue line has the ring. One player from each line start skating forward, the blue player passes to the green player and becomes defense. The green player drops the ring outside the blue line to the red player who passes back to the green player over the blue line. Red and green pass back and forth trying to score with the blue player trying to prevent a goal. |
| Variation: | Switch sides |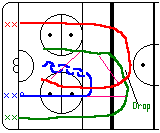 ---
Up & 3 Dekes

| | |
| --- | --- |
| Equipment: | Pylons, rings |
| Description: | X's begin the drill with a shot on goal immediately after shooting, X picks up a loose ring beside the net and passes to 1 moving up the boards 1's must time their movement to receive the pass with speed 1 dekes the first pylon and accelerates out of the move and repeats at second and third pylons after the third deke, 1 gains the blue line with speed, drives into the slot and shoots on the move after shooting, 1 picks up a loose ring beside the net and pass to 2 timing movement up the boards. |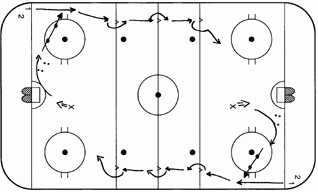 ---
Deflection & Screen

| | |
| --- | --- |
| Equipment: | Rings |
| Description: | A passes to B who quickly passes to C. A and B go to the front of the net while C takes a shot. A and B look for rebounds. |
| Variation: | Add a defense |

---
One Timer

| | |
| --- | --- |
| Equipment: | Rings |
| Description: | A passes to B who takes a quick shot on goal. |
| Variation: | Switch sides |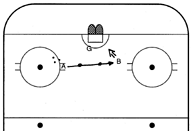 ---
One Pass Across

| | |
| --- | --- |
| Equipment: | Rings |
| Description: | B passes to A who passes back to B for a one timed shot |
| Variation: | Switch sides |
---
Either Side

| | |
| --- | --- |
| Equipment: | Rings |
| Description: | A has 5 rings behind the net. A passes a ring one at a time to B who takes quick shots. |
| Variation: | Add a defense. |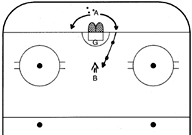 ---
Checking and Keeping Rings

| | |
| --- | --- |
| Equipment: | 1 Ring for each player |
| Description: | 4-5 skaters in each circle. Each skater has her own ring. The circle is the boundary. The players skate around inside the circle trying to check the other players while trying to keep her own ring. If you check someone, try to bat it outside the circle while trying to keep your own ring. |
| Variation: | Add or remove players when they are checked |
---
Name of Drill

| | |
| --- | --- |
| Equipment: | |
| Description: | |
| Variation: | |
---
Name of Drill

| | |
| --- | --- |
| Equipment: | |
| Description: | |
| Variation: | |
---
Name of Drill

| | |
| --- | --- |
| Equipment: | |
| Description: | |
| Variation: | |
---
Name of Drill

| | |
| --- | --- |
| Equipment: | |
| Description: | |
| Variation: | |
---
Name of Drill

| | |
| --- | --- |
| Equipment: | |
| Description: | |
| Variation: | |
---